Website City of Tangub
The Christmas Symbols Capital of the Philippines
CITY BUDGET OFFICE
Supervising Administrative Officer (Budget Officer IV)
Administrative Officer V (Budget Officer III)
CITY TREASURER'S OFFICE
Administrative Officer V (Cashier III)
Local Treasury Operations Officer II
Local Revenue Collection Officer II
GENERAL SERVICES OFFICE
Administrative Aide II (Messenger)
CITY ENGINEER'S OFFICE
Construction and Maintenance Man (4 vacant positions)
Watchman II
CITY MAYOR'S OFFICE
Administrative Assistant I (Computer Operator I)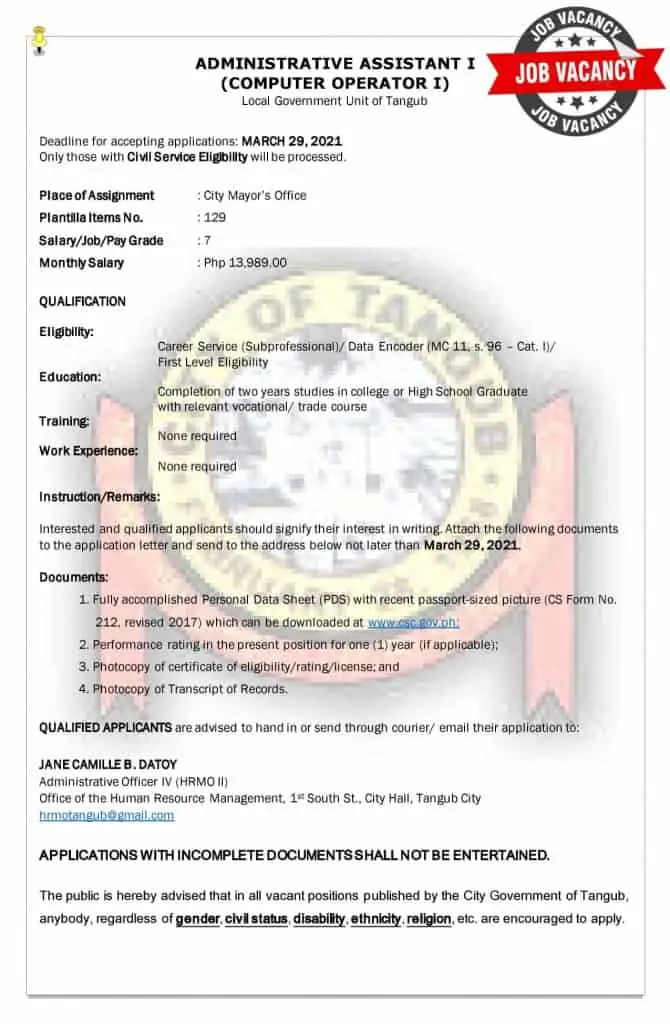 Administrative Aide VI (Clerk III)
Instructions/Remarks:
Interested and qualified applicants should signify their interest in writing. Attach the following documents to the application letter not later than MARCH 29, 2021.
Documents:
Fully accomplished Personal Data Sheet (PDS) with recent passport-sized photo (CS Form 212, revised 2017) which can be downloaded at www.csc.gov.ph;
Performance rating in the last rating period, if applicable;
Photocopy of certificate of eligibility/rating/license; and
Photocopy of Transcript of Records.
QUALIFIED APPLICANTS are advised to hand in or send through courier/email their application to:
JANE CAMILLE B. DATOY
Administrative Officer IV (HRMO II)
Office of the Human Resource Management, 1st South St., City Hall, Tangub City
[email protected]
APPLICATIONS WITH INCOMPLETE DOCUMENTS SHALL NOT BE ENTERTAINED.
Deadline for accepting applications: MARCH 29, 2021